Focusrite has updated Saffire Mix Control, adding compatibility with Mac OS v10.7 (Lion), the latest version of the Apple OS-X operating system.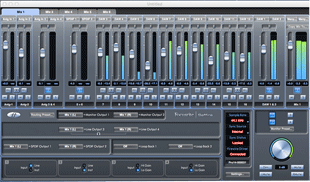 Other updates to the the (Mac and PC-compatible) mixer software that comes free with all Saffire Pro and Liquid Saffire Firewire audio interfaces, include improved performance under Pro Tools 9, and a streamlining of the snapshot loading and saving process. There are also various bug fixes in the new version.
Saffire Mix Control gives Saffire Pro and Liquid Saffire users full control over the interface's onboard DSP mixer, enabling very low latency monitor mixes and custom routings and mixes to be saved for quick and easy recall. It also provides special control over the Liquid Saffire 56's Liquid Mic preamps and for the Virtual Reference Monitoring (VRM) features of the Saffire Pro 24 DSP.
Saffire Mix Control v2.4 is available for free download from the Focusrite web site. It is compatible with Focusrite's Saffire Pro 14, Saffire Pro 24, Saffire Pro 24 DSP, Saffire Pro 40, and Liquid Saffire 56 Firewire audio interfaces.