Amate Audio has further expanded its Nítid active loudspeaker system series with the launch of the Nítid n318 single enclosure three-way system.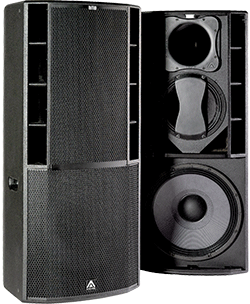 The Nítid line-up is designed around the latest digital amplification and processing technologies, using advanced acoustic research, to achieve optimal performance from compact cabinets. Equipped with a smart two-wheel transport system and with a weight of 67kg, the 3.2kW n318 enclosure can be moved into position by a single person. With a claimed frequency response of 35Hz to 19kHz, and 133dB continuous musical programme/136dB peak SPL capability, the system is loaded with a 1.75-inch PM4 diaphragm compression driver, 12-inch neodymium woofer (3-inch voice coil) and 18-inch woofer (4-inch voice coil). It has 60º horizontal x 50º vertical dispersion.
Onboard AD/DA conversion is at 48kHz, 24-bits, with 48-bit internal processing for (crossovers, EQ, limiter, gain control, mute, input dynamic compressor), an 18ms/40m delay line and factory presets. ALC (Adaptative Loudness Compensation) processing improves the performance when used at low musical levels.
The front of the cabinet is protected by a 2mm speaker grille with black mesh, designed with an optimum perforation gradient and attractive appearance. The cabinet it of multilayer birch plywood with Polyurea coating, offering reliability and strength for touring and other demanding applications. As well as carrying handles, the cabinet has built-in wheels for transport and
The screen output power display and the front Nítid backlight assist monitoring of the system. The backlight can be switched on or off, or set to indicate when the system is limiting.
More: www.amateaudio.com