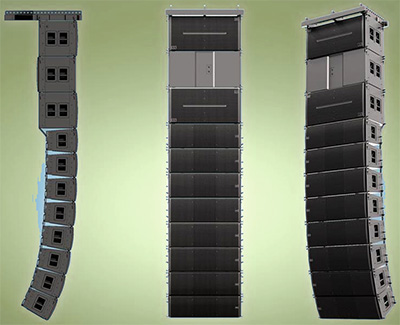 Designed for use with Vue's flagship line array, the al-12SB Flyable Subwoofer expands the al-12's versatility with powerful and well-defined low-frequency reproduction to below 35Hz. The al-12SB's flyable enclosure features versatile rigging options for suspension above or behind al-12 arrays in a variety of configurations, including cardioid arrangements. It can also function as the base of a ground-stacked al-12 array, or as a stand-alone subwoofer array in a variety of flown or groundstacked configurations.
The cabinet is loaded with a pair of all-new 18-inch transducers designed specifically for use in the al-12SB. Featuring a large neodymium magnet structure with 5-inch (127mm) diameter voice coils for exceptionally high power handling and reduced power compression.
The enclosure is exactly the same height and width as two al-12 line array elements. Road-ready materials include top quality birch plywood coated in the same durable 12-step Dura-Coat LX finish as all al-Class systems. Extensive interior bracing ensures resonant-free low-frequency performance, while a machined, powder-coated steel grille with acoustically transparent lining provides ample driver protection.
Integrated suspension hardware ensures that the al-12SB is perfectly configured for use with virtually any al-12 Line Array System in both flown as well as ground-stacked configurations. Recessed handles, skids, and a top-mounted 20mm socket even allow the al-12SB to be used in portable configurations. Front and rear-mounted Neutrik Speakon sockets provide easy input and output connection regardless of configuration.
Optimal performance is achieved when the al-12SB is used with one of Vue's VDrive Systems Engines. Custom al-12SB configuration settings are available via SystemVue software specifically for a variety of al-12/al-12SB array combinations.
'As the al-12 continues to gain fans, the need for more advanced configurations that can address a broader range of applications is expanding as well,' says Vue CEO Ken Berger. 'We're extremely excited to continue the rapid evolution of the al-12 while empowering our users with versatility and system performance that extends well beyond traditional line array limitations.'
More: www.vueaudio.com