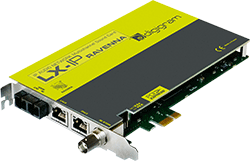 Digigram has released the LX-IP Ravenna PCIe soundcard, the company's first Ravenna/AES67-enabled product.
Featuring ultra-low latency (one audio sample per IP packet), up to 256 Ravenna I/O channels from multiple Ravenna streams and a full Madi interface, the card is aimed at high-density audio production or automation applications in radio and TV broadcast studios.
'As a robust media transport solution, Ravenna goes beyond standard definitions such as AES67 to offer added functionality and performance capabilities while assuring interoperability with a wide variety of other media transport devices and networks,' says Digigram Head of Product Marketing, Pascal Malgouyard. 'Our LX-IP Ravenna PCIe card takes advantage of these capabilities to provide exceptional audio quality and versatility in high-density professional audio-focused applications. In addition, the Madi interface allows a seamless migration from synchronous audio to Ravenna /AES67 networked audio environments."
The LX-IP makes enables recording and playout of as many as 128 audio-over-IP Ravenna channels simultaneously froma desktop computer. Claiming round-trip latency of 3ms, interoperability with all AES67 requirements, an embedded 128 x 128 switching matrix, Grandmaster PTP clock abilities, and high redundancy assured by two Gigabit Ethernet connections, it enables broadcasters to maintain high performance regardless of the computational load presented by the applications running on the host system. As an option, an optical Madi interface may be directly connected to the embedded switching matrix to provide 64 inputs and outputs.
This new release is the first Digigram solution with Ravenna technology, which uses established standards and protocols to addresses interoperability with respect to synchronisation, media clock identification, network transport, encoding and streaming, session description, and connection management.
Digigram was one of the first companies to participate in the Ravenna consortium led by ALC NetworX in 2011, setting open standards for low-latency synchronous AoIP distribution. Digigram has actively contributed to high-performance AoIP interoperability since the beginning of an AES standardization project called X192"in 2010 that issued the AES67 interoperability standard in 2013.
More: www.digigram.com