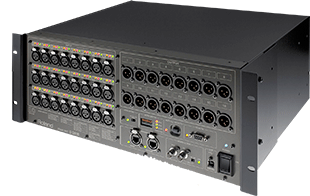 Roland Systems Group (RSG) has announced the S-2416 Stage Unit, expanding its current digital snake system by offering 24 analogue preamps and 16 analogue outputs. The S-2416 also hosts an 8 x 8 AES/EBU port to provide a digital input/output environment enabling direct connection to speaker processors, amplifiers and other devices.
When both the analogue and AES/EBU I/O are combined the S-2416 can provide up to 32 inputs and 24 outputs.

In addition to its analogue and digital inputs and outputs, the S-2416 has two REAC ports (Roland Ethernet Audio Communication) that enable an additional snake in cascade for expanded inputs and outputs or for a fully redundant, zero-loss audio back-up system.
The S-2416 is the first digital snake from Roland that is capable of a cascade connection, making it possible to increase the number of inputs and outputs to 40 x 40 channels. The flexibility of being able to connect an additional REAC digital snake to the S-2416 allows the Roland V-Mixing System to be used in advanced configurations. Cascade mode is activated via a switch on the S-2416.
The S-2416 supports 24-bit 96kHz, 48kHz and 44.1kHz sample rates when switched to clock master mode. Word clock input and output enable a master clock signal to be connected when using AES/EBU. Mic preamps can be remotely controlled using any V-Mixer, Roland R-1000 Recorder or S-4000R Digital Snake Remote Controller connected by RS-232C or by using the S-4000 RCS remote-control software on a computer (Mac or Windows) connected via USB.
The system's ruggedised 4U-high rack-mount chassis is an EIA (Electronic Industries Alliance) design suitable for touring or fixed installation. Neutrik connectors add to durability, while three-coloured indicator lights on the inputs provide phantom power, clipping, and signal presence at a glance. The AES/EBU ports on the rear are 25-pin D-sub types for a direct connection to auxiliary digital audio devices.
REAC connectivity is fundamental to the design of the Roland S-2416 using low-latency, high quality 24 bit/96kHz digital audio. The REAC 40 x 40-channel protocol allows the S-2416 signal to be 'split' to as many positions as required such as monitor, broadcast and recording splits. Using inexpensive and easy to install Cat5e/6 cabling, REAC technology eliminates the externally induced signal quality degradation or hums and buzzes typically found in analog systems.