Studio Technologies has released the Model 412 Fiber Transport System, a high-performance portable or rackmount transport system for multiple serial digital video, Madi audio and gigabit Ethernet over single-mode optical fibre links. The unit comes in three versions, offering a range of input and output configurations.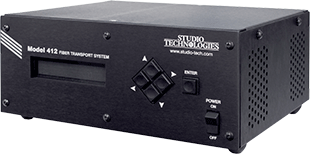 The Model 412 uses optical multiplexing to transport six SDI or Madi signals over two single-mode optical fibre. The SDI or Madi signals, at rates of up to 2.97Gb/s, are transported at wavelengths of 1310nm, 1490nm and 1550nm. In typical applications, the launch power and receive sensitivity are such that signals can be transported over a minimum distance of 10km. SDI input signals can be SD (270Mb/s), HD (1.485Gb/s), or 3G (2.97Gb/s). The 3G signals can be in either Level A or Level B format. DVB-ASI (270 Mb/s) signals are also compatible.
The system provides support for Madi digital audio transport. Typical SDI-over-fibre products are not compatible with Madi signals as they use a different rate and modulation scheme. Each of the Model 412's SDI/Madi channels is independent, allowing any combination of type, rate and format to be transported.
The provided Ethernet resources include those of a gigabit media converter (copper-to-optical transport), along with a four-port twisted pair Ethernet switch. Two fibre links are used to support Ethernet transport. Each of the copper ports support 10, 100, or gigabit (1000) Ethernet signals and provide auto MDI/MDI-X capabilities. All applicable IEEE standards are supported for fast and reliable use in a range of applications.
Model 412 comes in three versions – the Model 412-6T/E offers six SDI/Madi inputs, the Model 412-6R/E provides six SDI/Madi outputs, while the Model 412-3T/3R/E offers three SDI/Madi inputs and three outputs. Each unit offers a front-panel display that allows support personnel to observe the status of the SDI/Madi input and output channels along with optical transmit and receive levels. This information is also viewable on a web-connected remote device. Ethernet-related functions such as link status and optical transmit and receive power are also provided.
More:
www.studio-tech.com