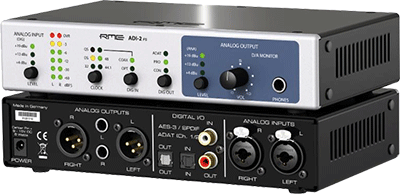 The newest member of RME's high-end ADI-2 Series, the ADI-2 FS two-channel AD/DA converter has similarities with its siblings, the RME ADI-2 Pro FS and RME ADI-2 DAC – the two servo-balanced XLR/TRS analogue inputs use the same advanced circuit design of the ADI-2 Pro, providing an extended frequency response and offering outstanding low levels of noise and distortion. The ADI-2 FS also uses the conversion technology of the ADI-2 Pro: the AK557x family and the AK4490 converter chips not only offer 192kHz sampling frequency and extremely low distortion, but also a dynamic range of 120dBA.
The ADI-2 FS also offers a range of digital format conversion options. The coaxial RCA SPDIF I/O has a switchable Channel Status to make it fully AES/EBU compatible (cable adapter required). Additionally, the optical Adat I/O can handle up to 192kHz and also serve as Adat I/O (even at 192kHz). Outputting incoming SPDIF signals as ADAT (and vice versa) is also supported, in both AD/DA and D-D mode.
The unit features a logical and informative front-panel, with clear and distinctive labelling and informative status displays. A six-LED level meter also provides input level information at a glance, making the RME ADI-2 FS extremely simple to operate straight out of the box.
The RME ADI-2 FS is due to ship Q4 2018, and will be distributed in the UK by Synthax.