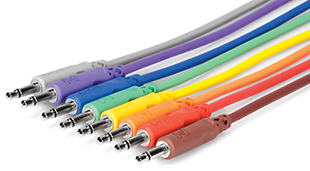 Hosa Technology has released the CMM-800 Series of unbalanced patchcords – eight colour cables and available in various lengths for connecting synthesiser modules equipped with 3.5 mm Tip/Sleeve (TS) inputs and outputs.
Featuring nickel-plated plugs, CMM-800 Series cables to simplify identification during use and are available in 6-inch, 1-, 1.5- and 3-ft lengths. 'The latest modular synthesisers have created a resurgence in electronic music creation and sound experimentation,' says Hosa Technology Product Manager, Jose Gonzalez. 'We're confident the superior construction and compact housing design of the CMM-800 Unbalanced Patch Cables will make them vital solutions in modular synth set-ups and will aid in the creation of unique sounds.'
The Hosa CMM-800 Series Unbalanced Patch Cables are available now at MSRPs from US$24.45 to US$30.45.
More: www.hosatech.com